Sun Eater is a hybrid music-entertainment company, aiming to bring Indonesia's future talents forward. Founded in 2019, Sun Eater has seen an exponential growth as a business by harnessing the two most powerful mediums of our age: technology and storytelling with a fan-focused approach to grow the audience and develop a deep relevance for its artists. Today they represent Indonesia's young talents – from Hindia, .Feast, Agatha Pricilla, Lomba Sihir, Mantra Vutura, Aldrian Risjad, to Rayhan Noor. With the latest addition being the virtual music band G/A/T/E. Sun Eater's independent business pillars currently being called Sun Eater Group (SEG) are divided into SEG Labels for its record labels and music production, SEG+ for producing creative contents, products, live events tp all commercialization across IPs, and later SEG platform to cater community fanbases.
The Sunwheel is our 360 approach to seize and navigate through the ever-changing music industry.
With the artists at the core, the wheel is divided into 8 asymmetric segments that made up our business.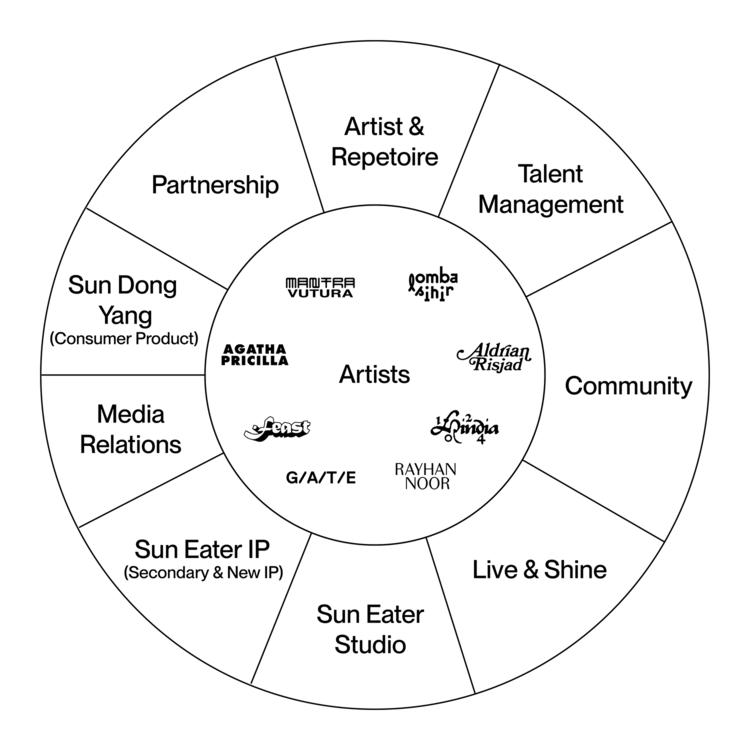 Ray Mahendra
Finance Lead
Dennis Ferdinand
A&R Lead
Rayhan Noor
A&R Executive
Melina Anggraini
Talent Management Lead
Norman Permadi
Talent Management Executive
Adrianus Haryo
Talent Management Executive
Rifanda Putri
Talent Management Executive, Community Lead
Sekarima Qonita
Live and Shine Lead
Sahid Permana
Sun Eater Studio Lead
Adnan Setya Nugraha
Tik Tok Specialist
Hanief Pratama
Graphic Designer
Fadjar Iman Syahtria
Graphic Designer
Rifqi Fadhlurrahman
Videographer & Video Editor
Rezky Prathama
Sun Dong Yang Lead
Giovanny Dwight
Sun Dong Yang Executive
Natasha Rosanie
Partnership & Commercial Lead
Fakhri Robbani
Partnership & Commercial Executive
Ivan Janitra
Partnership & Commercial Executive